Last week at the Earth Matters Showcase, we heard from our Keynote speaker Dr. Lisa Nisbet about the health and environmental benefits of spending more time in Nature.  Dr. Nisbet is an assistant psychology professor at Trent University researching nature relatedness.
Her research investigates the following questions: how does contact with nature influence health and happiness, what are the consequences of disconnection from nature for environmental decision-making, and what types of interventions can influence nature relatedness.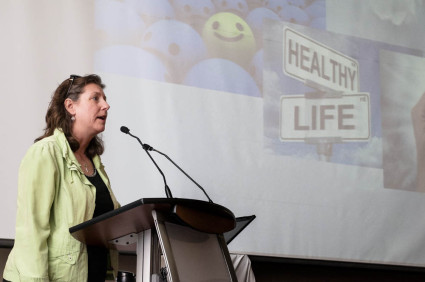 If I were asked to describe my own level of nature relatedness I would say that i feel highly connected with nature, I love spending time adventuring in the wilderness and am often concerned about how our actions are impacting the natural environment. Needless to say I really enjoyed the talk.
There were three things that really stuck with me after listening to Dr. Nisbet's  presentation:
1. Humans have evolved surrounded by nature, we are meant to be in natural environments, that's why spending time in nature feels good.
2. People tend to underestimate the  benefits of spending time in nature. Even though green spaces are often only a short diversion from our daily routes, we often don't make time for nature.
3. I need to make more of an effort to spend time in Nature. Since moving to Toronto, I have noticed that it is easy to go the whole day without experiencing nature, therefore I will need to make a conscious effort to connect with nature.
After thinking about this for a couple of days I decided to enroll in 30×30 Nature Challenge.  The David Suzuki Foundation is challenging Canadians to spend 30 minutes a day outdoors in nature for 30 days starting May 1st 2014. This challenge is about taking time to notice and connect with the non-human life around you, whether it be in your backyard, neighbourhood park, or a back country hiking trail.  I expect participating in this challenge will be just the motivation I need to seek out and enjoy more nature time!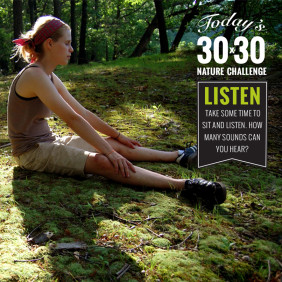 I am looking forward to some of the potential perks:
sleeping better
feeling calmer
lower blood pressure, anxiety, and stress levels
boosted immunity
reduced feelings of anger and depression
increased energy
increased creativity
increased generosity
If you are skeptical of the health and happiness benefits of more time in nature, I  encourage you to try the 30×30 challenge with me.  I expect you will be pleasantly surprised with your results!
To learn more about the David Suzuki 30×30 Nature Challenge and the potential health and happiness benefits, visit the website:
http://30×30.davidsuzuki.org/