---
Meet some of the inspiring faces that go above and beyond each and every day, in all corners of the hospital
---
The Indigenous patient navigator
Leonard Benoit
Best possible outcomes
Leonard Benoit has spent his career as a nurse and community service worker learning the ins and outs of a complex health system. Now, in his latest role, he is using those skills to support First Nations, Inuit and Métis people through their cancer journey.
"Indigenous people in Ontario are disproportionately affected by cancer," Leonard says. "But stigma and discrimination, language barriers and factors related to past trauma and mistrust of the medical system can prevent people from coming to the hospital for testing and treatment."
Leonard, who is Qalipu Mi'kmaq from Burgeo, Newfoundland and Labrador, is one of 10 Indigenous patient navigators working across the province. He supports patients at Sunnybrook's Odette Cancer Centre and other hospitals in Toronto.
"I'm here for whatever people need," says Leonard. "I go to appointments and help patients understand their treatment options, connect people with programs and services in their community and with elders who can advise on spiritual matters." He also advocates for inclusive practices that support the spiritual and cultural needs of Indigenous patients. At Sunnybrook, for example, Leonard has been instrumental in the development of a smudging policy. Smudging is an important Indigenous spiritual and healing practice that involves the burning of sacred medicines like sage, cedar or tobacco.
"My goal is to create a culturally safe experience for my Indigenous brothers and sisters, and to help people through their journey," Leonard says. "I believe that will help to create the best possible outcomes for Indigenous people."
– Laurie Legere
---
The e-learning designer
Igor Gemchuk
Designer with a purpose
On January 30, 2018, Igor Gemchuk got the wake-up call nobody wants. It came from a tight, unrelenting squeeze in his chest. Alarmed, he called 911 and an ambulance rushed him to Sunnybrook.
"The number of people who came to my aid – and quickly – was extraordinary," says Igor, who had now experienced first-hand the care his workplace offers to hundreds of thousands of people each year.
Igor works behind the scenes at Sunnybrook as an e-learning designer, making modules that help train the same staff who protected his life.
He collaborates with teams throughout the hospital, sifting through information to create easy-to-understand online workshops for staff on topics like patient health literacy and workplace violence.
"Frontline health-care professionals are inundated with so much information," says Igor, citing the numerous mandatory policies and processes that are part of health care. On top of that, they need to manage the physical, mental and emotional pressures of the job, he notes.
"Despite having that stress, they still manage to be so unbelievably caring."
After a run of antibiotics for myocarditis, an inflammation of the heart muscle, Igor was discharged with a healed heart and a new perspective.
"I always understood, theoretically, that my job was ultimately benefiting our patients," says Igor. "But now I understand it on a personal level. With each project, I think, 'How can I make the lives of our frontline staff as easy as possible, so they can stay as caring as they were with me?'"
– Katherine Nazimek
---
Nursing leadership trainer
Cathy Lemieux
Training leaders
Cathy Lemieux remembers a time when the acronym CPR didn't conjure up images of chest compressions and rescue breaths.
It was the mid-1970s, and Cathy was a nursing educator at Sunnybrook. CPR, or cardiopulmonary resuscitation, was relatively new and not widely practiced as a life-saving treatment, apart from appearing on a handful of medical television shows.
That all changed when hospital administration sent Cathy and a nursing education colleague to the United States to take an intensive CPR course.
Upon their return, they proceeded to train hundreds of staff at Sunnybrook. That experience sparked Cathy's career-defining interest in teaching how to successfully lead and work in teams.
Flash forward to the present, and Cathy's enthusiasm for staff development hasn't wavered. Over her 45-plus years at Sunnybrook, she has taken a prominent role in fostering leadership skills education at all levels and helped to create several staff training programs.
"The best part is seeing the 'ah-ha' moment in someone's face when they get it, whatever it is I'm teaching," says Cathy, organizational development associate at Sunnybrook. "Connecting with the learner is a powerful moment and really inspirational."
Cathy's current passion is facilitating Sunnybrook's Developing Nurse Leaders Program, which she developed with a colleague. The program prepares nursing staff to confidently take on leadership responsibilities when assigned to a team leader role. Cathy works with the nurses through a series of workshops, presentations, simulations, job shadowing and coaching.
"I think back to those intimate, or challenging, moments when I was at patients' bedsides," she says. "[Those moments] help me identify with frontline staff. And I'm motivated knowing it's a never-ending journey to being a good educator."
When asked her advice for learners and teachers, Cathy says we should remind ourselves that we all take on both those roles at some point in our lives.
"I'm still learning each day," she says.
– Marie Sanderson
---
Information desk clerk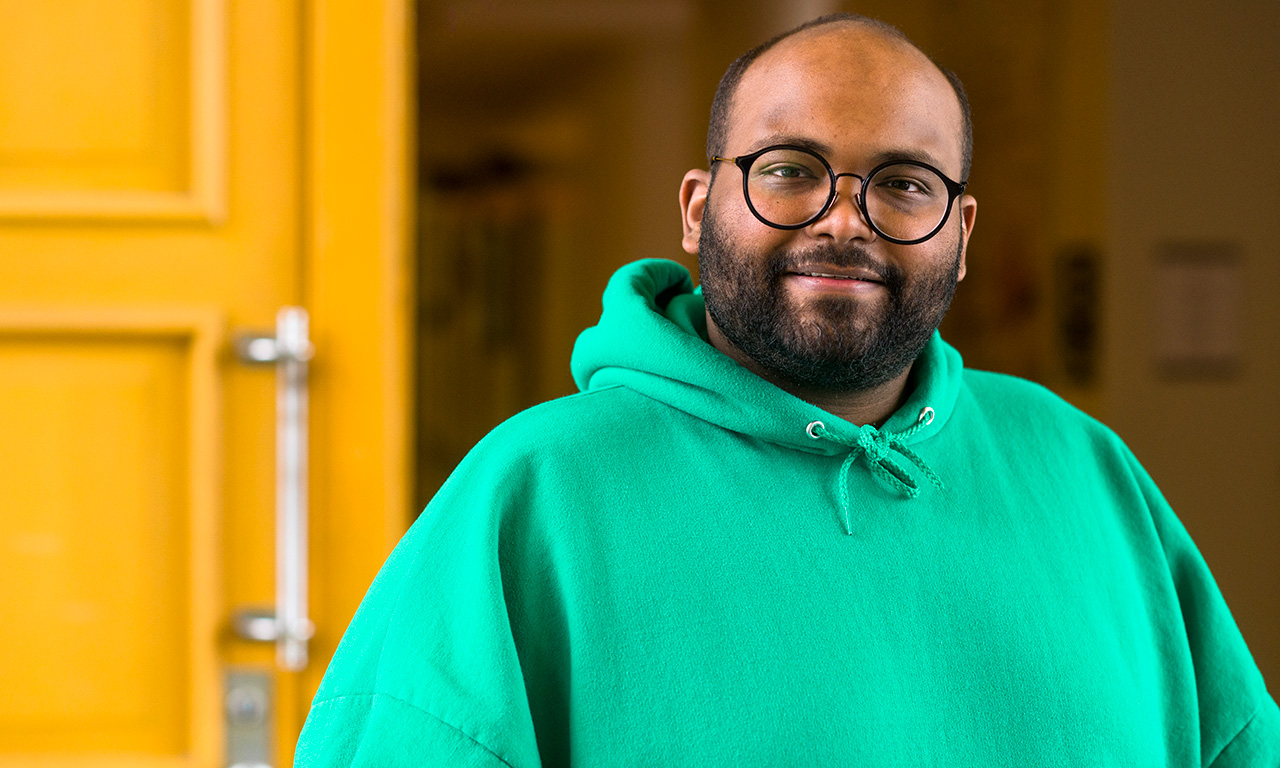 Ahmed El-Gaali
First contact
There's only one chance to make a good first impression. And first impressions are what Ahmed El-Gaali does best.
As an information desk clerk, Ahmed works the switchboard and front desk across three Sunnybrook locations. He is the first point of contact for many of the hospital's patients and visitors.
Colleagues view him as the kind of person who is always positive and happy. Talk to him on the phone, and you can hear the smile in his voice.
"Customer service is about understanding people, gauging how they may be feeling and empathizing," Ahmed says. "Understanding how a person feels helps you determine how to interact with them."
Calling or walking into a hospital can be a stressful experience, and Ahmed has learned how best to respond to a wide range of emotions.
"If someone is sad, be comforting," he says. "If they're [upset], try to understand why. Think, 'Is there anything that can be done to make their experience better?'"
Ahmed was born and raised in Abu Dhabi to expatriate parents from the Sudan, and he moved to Toronto at the age of 12. He has a degree in international development studies from York University, and he's working toward completing a certificate in e-business management from the University of Toronto.
He's also a huge music fan. Ahmed remembers standing on a stage with a choir of his peers when he first moved to Toronto, belting out the lyrics to "This Little Light of Mine." It was in that moment that he discovered his love for music and understood the joy it brings to others.
"With music, you touch people in a way that makes them feel better after hearing it," says Ahmed. "And that's the same with customer service. When I finish speaking with someone on the phone or in person, I want them to feel better."
It's a positive attitude that serves him well as one of the faces, and voices, of Sunnybrook.
"When I see people happy, I'm happy," he adds. "Everybody has a light. Let it shine."
– Shelley White
---
Labour relations manager
Adrian Hascal
Labour of love
Adrian Hascal spends much of his day navigating the complexities of labour relations at Sunnybrook. His guide dog, Ronaldo, helps him navigate the busy halls.
Since the age of 10, Adrian has lived with retinitis pigmentosa, a rare, degenerative eye disorder that involves a breakdown and loss of cells in the retina.
The disease has caused him to lose almost all vision, so last spring Adrian decided that it was time to have a guide dog by his side. Ronaldo, a black Labrador retriever, has proven to be a perfect match. 
"We bonded almost immediately and our relationship is very special," Adrian says. "We are inseparable and very in tune with each other's needs."
As manager of labour and employee relations, Adrian is part of Sunnybrook's human resources team.
"I always felt I had a talent in persuasion and negotiation skills," Adrian says. "For me, getting to a negotiated settlement or resolving a dispute where the common interests of all parties are met is rewarding."
Originally from Romania, Adrian relocated to Israel at the age of five with his family, then moved to Greece before settling in Canada.
He says his interest in human resources started at York University, where he studied labour relations and psychology.
Adrian began working at Sunnybrook 19 years ago. He started his career as a labour relations assistant and then moved up the ladder within the department to his present role. In 2012, he completed his education and obtained a master's degree in law, specializing in alternative dispute resolution.
"I love the people and the culture [at Sunnybrook], and the fact that it is internationally renowned," he says.
Keeping up to date in labour and employment law is a requirement of the job, Adrian says. But beyond acquiring knowledge, the role is all about "utilizing a high degree of emotional intelligence" and "applying common sense when all else fails."
– Sally Fur
---
Nursing education coordinator
Tracy Howze-Innes
Next gen champion
For almost 10 years, Tracy Howze-Innes has been helping nursing students begin their careers.
As a teaching institution, Sunnybrook offers local university- and college-trained nursing students the opportunity to apply what they've learned by caring for real patients.
Tracy is Sunnybrook's nursing education coordinator, organizing up to 1,800 nursing placements within a hectic three-week window at the beginning of three semesters each year. It's an act of strategic networking – matching what students are looking for with the needs and capacity of each patient care unit. She collaborates with nurses and unit leadership to make it all happen.
"I enjoy meeting the students," Tracy says. "Some are nervous. Some are ready to change the world." Tracy says she's worked with nurses who came into Sunnybrook as students, were hired on as staff and now are heading off to continue their education through a master's or post-degree program.
"They are 100 per cent engaged in Sunnybrook," she says. "For so many young students, their careers started here, and I often think that it was worthwhile that they had a strong impression of us at the start."
Tracy looks for ways to enhance the student experience. She and her colleagues have helped implement initiatives such as extending shuttle bus services for students and introducing a first-of-its-kind Sunnybrook "pocket guide."
Tracy and her colleagues were recognized in 2018 by the Council of Ontario University Programs in Nursing (COUPN). For providing nursing students with "excellent evidence-based practice experience in a caring and supportive environment," Sunnybrook received the prestigious Agency Recognition Award.
"I work to facilitate rewarding moments – to encourage and motivate our nursing students," Tracy says. "And I do it among colleagues who, like me, have a passion for what they do."
– Natalie Chung-Sayers
---
Photography by Kevin Van Paassen and Doug Nicholson