Written by Carly Mae MacKinnon, mother of Austin and Charlie (born September 1, 2010)
Preface:
I have been writing letters to my son Charlie for the past four years, since he passed away in the NICU at 24 days old. I let out my feelings, chronicle the days in the life of his surviving twin, Austin, and generally process the reality of living without him.
I have been to therapy, used antidepressants, volunteered, fallen apart completely, rebuilt my life, persevered, and carried on. Throughout all of this, the contacts I made at Sunnybrook have kept both me and my now 4 year old Aussie strong.
Carly with one of the beautiful angel gowns
When the opportunity came to donate my wedding gown to Forever Loved Angel Gowns, it was easy. The chance to give back to the NICU that gave my boys every possible advantage overwhelmed me. It's a small gesture, giving something beautiful to be recreated into many more beautiful things, but it's all that
I can offer at this point. Life blindsides you sometimes – it's what you do the day after that really counts.
– – – – – – – – – – – – – – – – – – – – – – –
Dear Charlie,
Today is the day your twin brother went to kindergarten. He got bigger and smaller, all at once. I watched him walk in line, with his too big hoody and his huge, heavy backpack (feet barely showing beneath), into his new classroom when the bell rang. Today he left me behind without even a glance back. Today he
grew up and so did I. Today Austin went forward, yet I go back.
I went back directly to the place where it all started – and ended – four years ago almost to the day.  I delivered burial gowns for babies gone too soon, created from my wedding dress, to Sunnybrook's NICU – the place where you and your brother Austin were born. One gown, so full of promise and hope and happiness, became 13 tiny gowns, full of sadness and confusion and death. The emblem of a beginning, recreated into the symbol of an ending.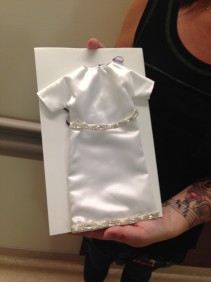 An angel gown created from a wedding dress
And yet, there is a sense of comfort. There is the knowledge that something beautiful might be passed on. Though my wedding dress no longer represents a beginning, it can still bring peace. Love isn't recycled but purposes can be. Closure comes in many forms; for me, it begins to come from the knowledge that although I didn't have anything to hold you in during your last moments, there is another option for others facing their darkest hour. When the tubes and wires fall away, and the silence takes over, beauty creeps in. You were beautiful enough, Charlie. But in the days after, keepsakes become important.
So, today I let go. And in letting go of one symbol and one part of Austin's life, I hope that it can bring comfort back to where it all began for us.
Today I come full circle.
My personal thanks to Sheila Babineau, one of the Angel Gown seamstresses, and to Wendy Moulsdale, NP- Pediatrics at Sunnybrook NICU who first introduced me to this worthwhile cause.
Wendy and Carly at the entrance to our NICU
– – – – – – – – – – – – – – – – – – – – – – –
Thank you so much, Carly, for writing this beautiful post for us. We thank you for sharing your wonderful words and your wedding gown. We would also like to let all families from our Women and Babies program know that this Sunday (September 14 at 1pm) we are holding a memorial event in our Butterfly Garden. We will be honouring all the babies gone too soon and their families. If you would like to join us, to grieve and to celebrate, you are most welcome.  Please email kate.robson(at)sunnybrook.ca for more information.