For families in our neonatal intensive care unit, the simple act of holding their baby skin-to-skin (kangaroo care) has a lasting health impact. Luisa King, a nurse working to support staff and families to make kangaroo care possible, and Dr. Paige Church, a neonatologist and developmental paediatrician who follows families after they leave the unit, explain why it really is the best medicine.
What is kangaroo care?
Luisa: Humans are created with a deep need for connection. No matter who you are, connecting with another person is important for not only our survival but for us to thrive as individuals. This is especially true for parents and babies in the NICU who are separated from each other after birth. Kangaroo care happens when a parent holds their baby skin-to-skin for extended periods of time. During this magical time, the physical connection between parent and infant helps to calm and reassure both, improving the mental health of the parent and baby. The beauty of kangaroo care is that it reunites the parent and baby, providing a connection so vital for a thriving family. For the baby, this contact stabilizes them physically as well, promoting a healing environment.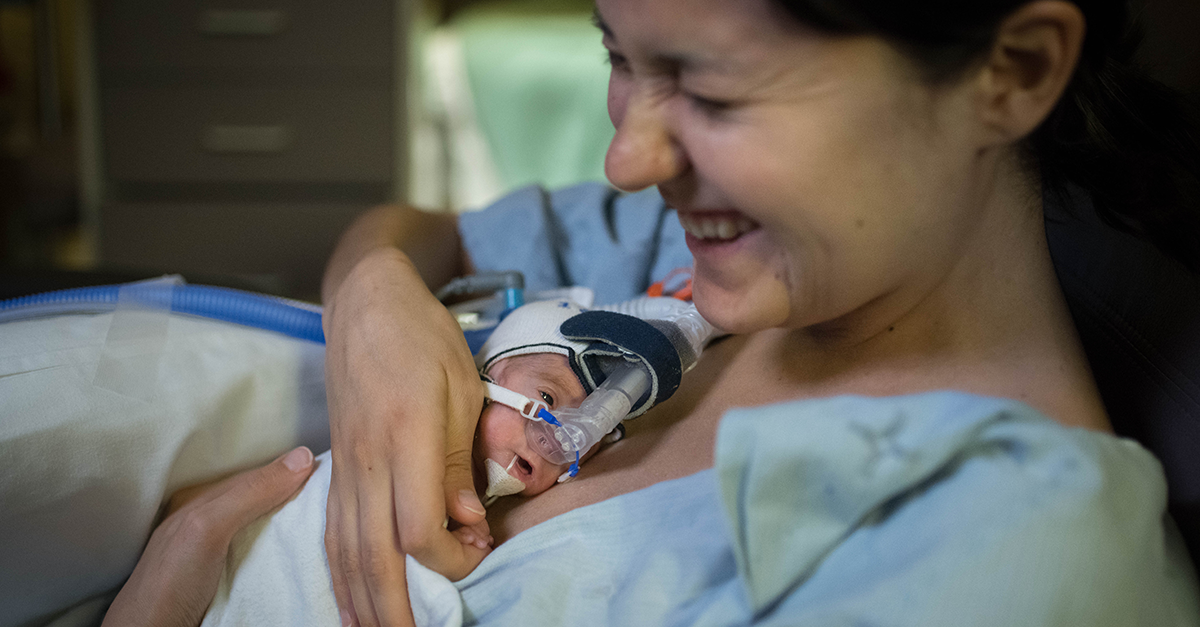 When does kangaroo care start?
Luisa: Our aim is to reunite babies and their parents with kangaroo care as soon as we possibly can. For some of our bigger and less critical infants this can mean a cuddle with mom right after birth before they must come to the NICU. For most of our babies it means they are first held within a few days after they are born. For some of our very smallest and most critical infants, it may be much longer until kangaroo care is possible.
What are some of the benefits for babies and for parents?
Luisa and Dr. Church: Through the most current research, we are coming to understand the incredible impact kangaroo care has not only for the immediate stability of infants in the NICU, but also for long-term outcomes.  Infants who are kangarooed by their parents are typically more stable; for example, they absorb oxygen better and their heart rates stabilize. As well, they sleep better and are less disturbed while asleep, which allows for optimal brain development. This, in turn, leads to better weight gain, earlier feeding success and also earlier discharge.
The most recent research findings show that infants develop synchrony with the parent, which means the mother, father/partner and the infant regulate each other.  They do this when their bodies release hormones in response to being held. These hormones are the building blocks for attachment and bonding and cause both parent and infant to feel calm and connected. Attachment is key for good mental health and healthy family life.
Mothers and fathers who engage in kangaroo care with their infants have a reduction in depression and post-traumatic stress disorder, or PTSD, commonly associated with NICU admission.  Infants that are consistently held by a parent show significantly less anxiety, depression and behavioural issues that are associated with prematurity.
We often speak of kangaroo care as a therapeutic intervention for families, and that is truly what it is.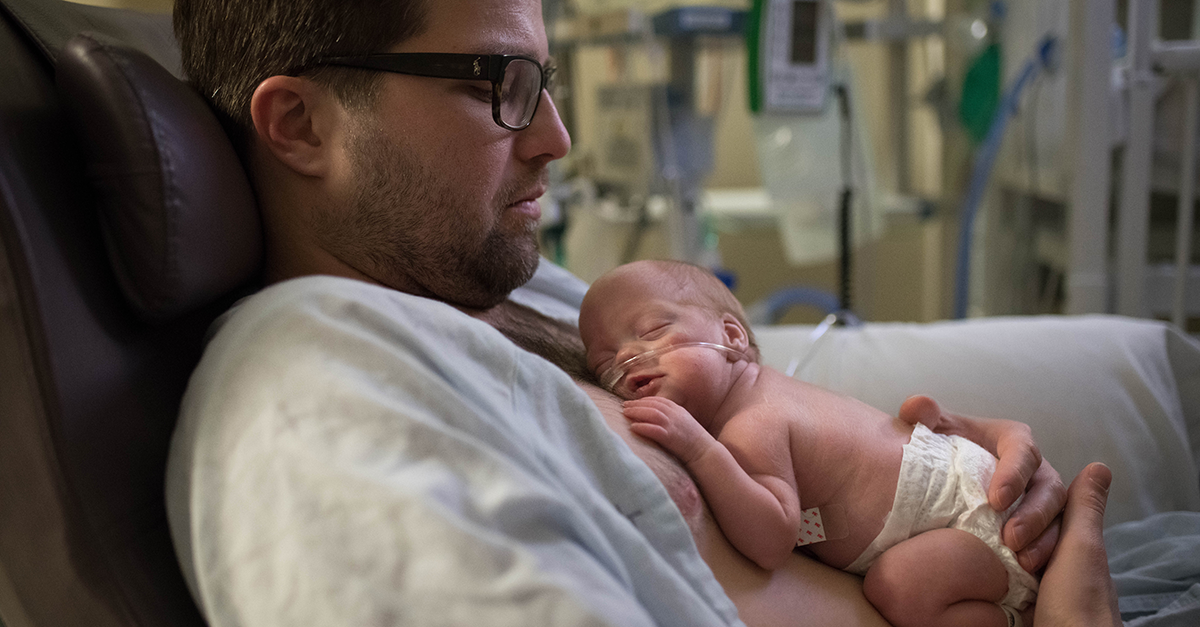 Dads can do it too?
Luisa: Absolutely! Too often fathers feel left out of infant care and connection, so it is especially important for them to reunite with their baby. For fathers, kangaroo care releases hormones that promote bonding and attachment, helping them cope with the stress of their baby being hospitalized and creating feelings of protectiveness​ toward the family unit. Most importantly, when dads spend prolonged time with their babies, they become experts at interpreting their baby's cues and grow in their paternal role as they understand the needs of their babies better than anyone else.
What about longer-term benefits, after the baby leaves the NICU?
Dr. Church: There was a long-term study published in Pediatrics ​showing kangaroo care has a significant, long-lasting social and behavioural benefit 20 years after a baby is held skin-to-skin. The study found less aggressiveness, hyperactivity and antisocial behaviour in children that had experienced kangaroo care. The benefits cascade throughout life by changing the parents, and changing how the baby experiences its environment.
What happens when Kangaroo Care isn't possible?
Luisa: If the baby is unable to be held, it does not mean that connection cannot happen. One way parents can do this is to hand-hug their baby. Hand-hugging is when a parent provides loving and calming touch to their baby by gently surrounding baby with their hands as they cup the baby's head and feet. This connection calms the baby, promotes brain development and allows the baby to know the parent is present through the scent of their skin and the sound of their voice.
My baby is in an NICU but the nurses or doctors haven't suggested kangaroo care. What should I do?
Luisa: Speak up and say you're interested in holding your baby skin-to-skin. There are some good resources at sunnybrook.ca/kangaroo that you can print out for your care team. If you need extra support, please don't hesitate to email me at luisa.king@sunnybrook.ca.
Dr. Church: I agree with Luisa. Talk to your baby's nurse or doctor. The benefits of kangaroo care are so impactful for your baby, and for you. It really is the best medicine.