Every year, we host a very special guest in our NICU. He comes with some elves and a walking, talking Christmas tree, and spends some quality time with our smallest, newest humans and their families. Can you guess who????
That's right! It's …
SANTA!
Most families would not, if they had a choice,  spend their holidays in the hospital, and so we always try to plan lots of fun festivities over holiday times.  It's why we dress babies up on Halloween, why we host special events on Mother's Day and Father's Day, and it's why we always make sure Santa has us on his visiting list.
Our families seem to enjoy it (Exhibit A  – just look at those smiling parents) …
And Exhibit B … two more proud parents with their beautiful twins!
Sometimes Santa visits with babies in their incubators …
And sometimes he's lucky enough to get his own personal cuddle time …
While it's fun for families, it's equally fun for staff!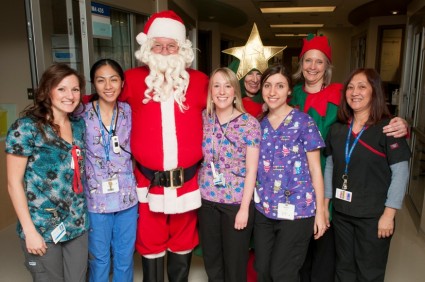 It's also true that none of this could happen without the many volunteers who put hours of time into organizing it. To Santa, the elves, the tree, and all the nurses who helped babies meet Santa for the first time, thank you! To Doug Nicholson who took the incredible photographs, thank you!
To graduate mom Mandy, who donated silver bracelets from Pinkstix to all our mothers, thank you!  To our graduate parents who organized the family party, who brought or donated all the goodies, thank you! To our families who shared photographs with us and allowed us to be part of this special time, thank you!
And to all of you who support us in the work that we do, and who support our wonderful babies and families, thank you. We wish you and yours the happiest of holidays!